​WINDOWS 10. Internet explorer. 28 FILES.
​Enables a proxy server.
​Enables ClearType to increase readability.
Disable the Internet Explorer 9 tour.
​Enables Internet Explorer's Popup Blocker.
Disables Internet Explorer's phishing filter.
Changes all users' internet settings to offline.
Not everybody likes the new search bar, feel free to remove it.
You don't want Internet Explorer to show the menu bar below the address bar?
​If this tweak is enabled, websites cannot request your geographical location.
Enables Internet Explorer to check for server certificate revocation. This setting can greatly enhance your security because Internet Explorer will know if a certificate was revoked because of fraudulent use.
Make Internet Explorer delete all of the temporary Internet files stored during the session when the browser is closed.
​Internet Explorer's password caching is a huge security risk. Many trojans and viruses use to steal the stored data.
​Caching SSL pages is also a security risk, you better disable it.
Allows Internet Explorer to use 20 connections. This can speed up internet access.
​Disables the Integrated Windows Authentication.
​Disables Suggested Sites - a feature many people want to get rid of. Internet Explorer suggests sites based on the address you are typing in. Every user gets a unique userID - reason enough to suspect data collection. Disable this feature if you do not your URLs to be send to Microsoft.
Stops Internet Explorer from notifying you about finished downloads.
​You don't use network drives? Disable this menu item.
Increase the multithreads downloading of internet explorer.
Disable opening links in a new tab.
If your not sure which kind of data Microsoft collects while checking for updates, simply disable Internet Explorer's update check.
This tweak disables tabbed browsing.
Use edge html inside of internet explorer.
Powered by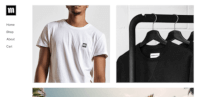 Create your own unique website with customizable templates.